With the widespread use of smartphones and internet savvy devices, more and more customers are depending on online channels for their travel requirements. Travel agencies now need to work harder to attract business online and compete in the market.
Having a good travel SEO strategy is the only way to appear on the top search engine results.
Given below are some SEO tips for a travel agency:
1. Keyword Placement and Optimization
Today, when people want to travel the first thing they do is to Google preferences for places.
It is very important for your travel business to know the keywords and phrases that people use when searching for destinations.
To help rank your travel website better, you need to research keywords on a regular basis and include the most popular ones in the content. Keep in mind not to overstuff your content with keywords and unnecessary information as Google can penalize your website.
Provided below are some keyword research tips to follow:
You should choose an optimum keyword density, which is nothing but keeping a good keyword density percentage without over-stuffed keywords.
Try to target 2-3 keywords per page.
Try putting the keyword in the headline of a page
Use keywords in the meta description, title tag and alt tags.
Use the Google Keyword Planner tool to find the right keywords. This tool allows you to see what people are typing are typing in Google.
Write an optimized content around the keywords along with semantic (LSI) keywords.
Include your keywords in the website URL.
Make your most important keywords the first few words in your blog post's title.
Optimize the destination page as well as homepage with keywords
2. Local SEO
Local SEO is a way used by search engines to show the most relevant results based on the location data. When searching a travel agency you are more likely to prefer the one in your locality, right?
If you wish to see your travel businesses succeed online and appear in Google 3 pack listing then you need to do the followings:
For your travel agency, first and foremost create a Google My Business account and provide your business address.
Complete your Google My Business profile.
Enlist your travel agency in the local business directory.
Add schema markup to your local business address and include it on a homepage.
Include city/ state in the title tag of your page.
Ensure that your business name, address and phone number is the same everywhere for Google maps, your website, local directories, social media pages etc.
Geotag the images.
3. Club Voice Search & Related Search Query To Build a content
As per Google's statistics, 20% of mobile queries are voice searches and we are increasingly using voice search to make our search queries online than type search. Voice search is fast and allows for hands-free interaction with smart devices.
For example, a few days ago from one of our colleague's Android device we made a voice query, "I want to go to Rajasthan" and Google displayed the results as mentioned below.
In the results page, we found the top ranking pages of travel agencies and next clicked on the links of top 3 websites to gain an idea why they are ranking for the query "I want to go to Rajasthan".
Interestingly we found they have written head to toe information about the destination Rajasthan on the basis of traveler's search intent. Now the question is how you would incorporate voice search in your content marketing plan that will boost your travel SEO efforts and keep your business ahead of your competitor?
Let's give you an example…
As we have said before how we have made a voice search query "I want to go Rajasthan", then we scrolled down to the related search result section at the bottom of the Google's 1st page and found the following:
Now with this related keyword suggestion, you can frame content for your travel agency blog like the following because there are a lot of chances your blog post to come on the 1st page of Google as you are creating a relevant content based on Google's search-related suggestion.
Top 7 places to visit in a Rajasthan trip for 7 days.
Things to do in a Rajasthan trip for 4 days before you die.
How will you Plan your Rajasthan tour from Kolkata like a pro?
This is how you can incorporate voice search and related search results in your content marketing and increase organic traffic to your travel website.
4. Link Building
Link building is an effective off-page SEO method and is necessary for attaining high rankings in SERPs.
The question is how to get the links that deliver for your travel website?
Some of the ways you can use to get the links are given below:
Press releases are useful in the travel industry. If you have good travel offers do press releases so that travel industry influencers and bloggers are likely to recommend your website to people. Once your business has established a reputation, your website might even be listed with the biggest travel portals.
You can mention links from travel review websites and portals and make connections on Twitter or Facebook with travel bloggers or journalists and give them incentives to visit your website.
Initiate a conversation with and inviting them to visit your properties or sending them an exclusive offer for their readers.
5. Make Your Website Load Faster & Mobile Friendly
Having a responsive website is very important for a travel website as most of the users now browse and book from their smartphones.
Business travelers or leisure travelers, both are looking for mobile friendly websites to make their decisions. Hence optimize for mobile users as it will allow them to reach out to your business through mobile devices.
Also, design your website architecture such a way that perfectly fits mobile screens.
6. Make Information Architecture & Travel SEO Work Together
Information architecture is a requirement for attaining high organic SEO rankings. By keeping your site's data and content organized, you help in enhancing your website's design.
It is good to work towards attaining higher search engine rankings but more important is to make your website user-friendly.
Let's take a look at this travel website (http://www.kaziranga-national-park.com/). The information architecture is meticulously crafted as per the search query from a user who is searching for Kaziranga tour.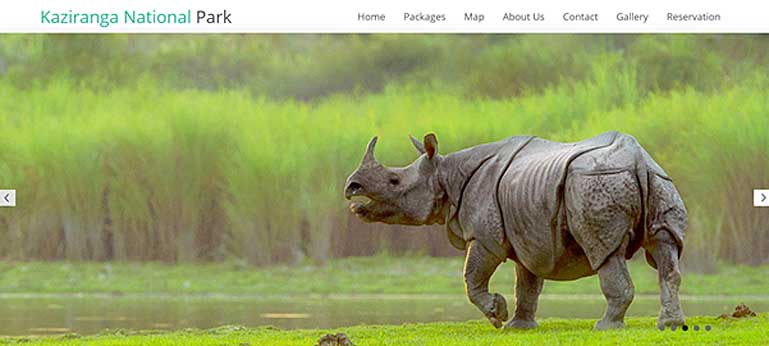 Now on their home page, all the mission critical pages are listed in the top menu. There are 7 menus which a user can remember at a maximum.
Again we see the most important "menu" reservation is ended at extreme right because it is a usual practice that a user reads from left to right.
The most important thing which we have traced in this website is that they have not overwhelmed the online visitors with too many choices.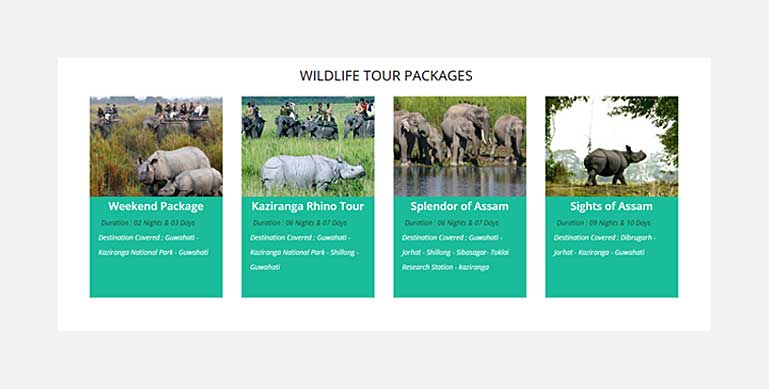 In the mid fold of the website, all the main packages of Kaziranga tour has been showcased. They have strategically placed the important content so that online user find the exact information what they are looking for.
Again we see that apart from tour packages, sales funnel pages i.e resort reservation section is also present. Users who are landing on the home page do not have the struggle to book a resort of their choice.
The important pages are interlinked from homepage, thus the page juice of home page flows directly to internal pages.
Information Architecture For Internal Page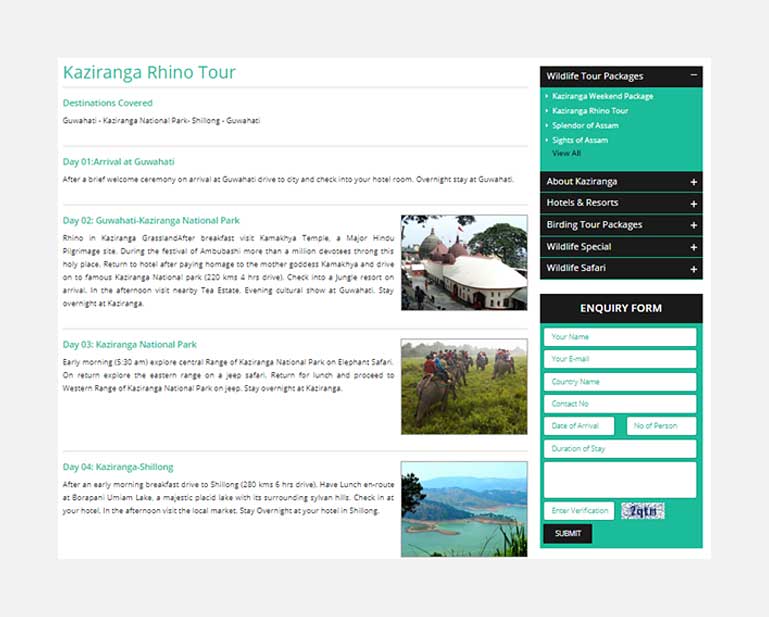 Again the information flow in tour pages is very precise in relation tour package without too much exaggeration. This is actually helping the user with the information as required.
Secondly, on the right-hand side of this webpage, we see that pages which are present on the homepage are also accessible from internal pages.
Thirdly understanding the psychology of its online visitor i.e what they actually need, kaziranga-national-park.com designed its information architecture by placing the most important element the lead form adjacent to rate section, thus minimizing the exit rate from this page.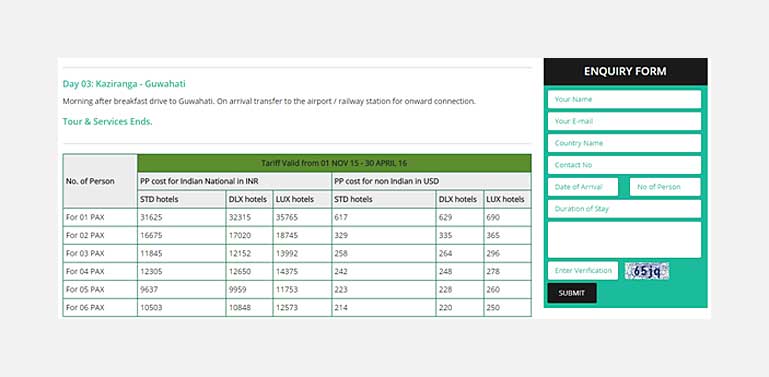 CONCLUSION
Now that you know of some travel SEO tips, you can start implementing to your own travel website.
However if you still in a hurdle to get customer bookings from organic traffic, feel free to contact M&M Web Solutions for travel SEO services as well as UI/UX design services for your travel agency website.