What is User Generated Content?
User-generated content is a source of content created by users. UGC's include images, videos, audio files, text posts, comments, and more.
User generated content can significantly impact your SEO because the fresh content comes from your user for your brand. This content is neither rephrased nor copied from other sources; hence Google gives maximum relevance to it when it comes to SEO.
How User Generated Content Helps Your Brand
Your brands get more exposure as your customer talk and engage with your brand.
Better relationship with your customer establishes.
More user generated content is equivalent to a unique content which enhances the online visibility of your website on Google.
Boost the credibility of your brand
Increase sales and leads because your buyers play the role of advocacy.
Given below are 3 forms of user-generated content to try out
1. Ratings & User Reviews
Reviews are the best examples of user generated content and most important when it comes to online sales.
Reviews provide other users with valuable information about your products and services.
If you have an e-commerce store, you should provide a way for customers to review specific products and display those reviews on the product page.
Suppose you want to purchase a digital SRL camera from Amazon, reading the reviews given by other customers can help you to purchase the best camera within your budget.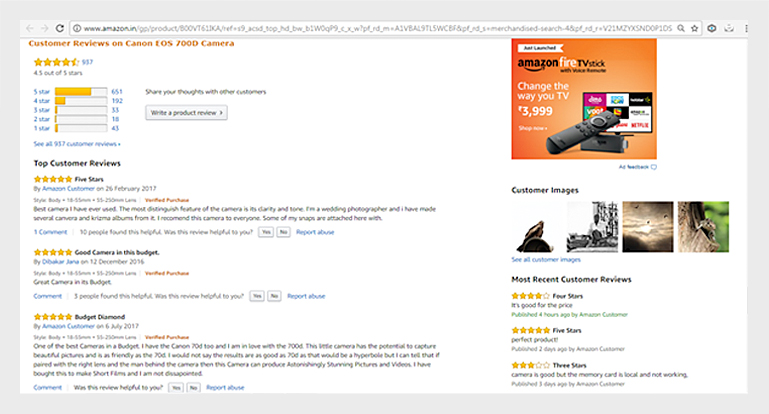 If we consider an above-mentioned example, we can see under Customer Reviews on Canon EOS 700D Camera on Amazon.in, the first that you can see are the ratings in the form of stars given by buyers.
Below that you will see the Top Customer Reviews section where buyers have given their reviews and ratings based on their experiences.
After going through the reviews, you will get an overall picture of the camera and based on that you can then decide whether to buy to or not.
So we find these reviews are actually not created by Amazon, its text based user generated content that buyers have given for Canon EOS 700D Camera on that particular page.
So when a visitor searches for Canon EOS 700D Camera, on SERP Amazon comes on 1st page. This is how this type user generated content offers significant SEO benefits in terms of ranking.
2. User Generated Videos
We already know that an online visitor gets appealed by visual content. So if you are an online store who is sell shoes online your main task will be to engage with the psychology of your buyers.
In that case, you do not have to spend money from your pocket to create the video. You request few your existing buyers to share the video with you when they unbox the product that they have received.
Or you can also ask them to take a video on how they are using your product.
Once they share the video with you. Your next step will be to embed the videos on your website and notify them via Facebook messenger or through email and they will, in fact, share your business on their social media profile.
This will not only create your brand awareness but also drive more customers and thus reducing their shopping anxiety to buy.
In terms of SEO, a fresh consumer content is getting generated in a video form. When you embed the video it retains a visitor for a longer duration on the website thus lowering the bounce rate. https://moz.com/blog/do-website-engagement-rates-impact-organic-rankings.
3. Interviewing The Industry Influencers
Suppose you are a start up Seo agency, how will you create awareness of your brand?
It's very simple…
Make a list of mid-level industry influencers and email them that you will be covering their insights and tips on your blog. Here is a sample email which we have tried out for M&M Web Solutions to outreach influencers.
Now after a few days later we received Marcus's tips on link building for small business.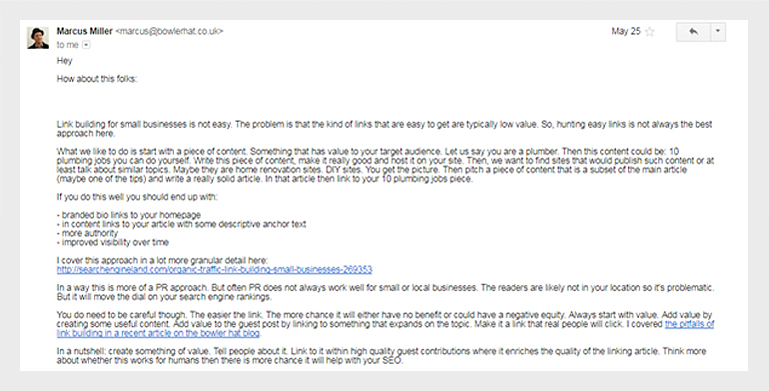 This is how you can create an informative blog post with expert's insights without creating at your end. In fact, your audience will love to read this type of informative content.
Now once the blog post gets published, you email those industry leaders, to share the blog post with their audience. This is how your brand gets awareness on social media.
CONCLUSION
These 3 tips you can use to your brand's to get an advantage in digital space. Embracing user-generated content into your website will help in your SEO strategy and attract lots of visitors to your site.