We often tend to overlook psychology in our web design practices. In today's in this article, we are going to share few UX and UI design hacks which you can club for branding, marketing, and advertising to get more conversions for your business.
What is user experience?
User experience or UX is how a person feels when interacting with a system. UX design is a part of the web design process that ensures that your website is entirely customized for your users.
UX designers make a study of how your users feel about the system considering factors like simplicity and elegance, efficiency in performing tasks, utility etc.
Today, the importance of designing and enhancing user experience has become all the more essential and symbiotic.
UX design is very important for intricate websites as users would need to learn to navigate content as quickly as possible.
How Does UX Design Help In Digital Marketing Success?
A common job of both UX designers and marketers is to know their users.
UX is all about understanding your target audience, knowing what is essential to them, why it is essential to them and then design accordingly.
Here are some ways that can help you use your website's UX design as an effective marketing tool:
Your focus should on the performance of your website for all your design decisions. Visual appearance matters but what you need is a well-performing website for success in marketing.
You should design your website to be interactive, in a way that allows your website visitors to interact with your site. The ability of your website to facilitate good communication will help generate more leads, sales, and subscribers and further improve your brand reputation.
When you sit down for the UX design and planning of your website your focus should be on how to create optimized landing pages. You can highlight your products and services on the landing pages. Also, try to have multiple landing pages as more landing pages translate to more leads for your business.
Best UX and UI Design Practices That You Should Be Implementing on Landing Pages
You should provide clear information to your site visitors as to how your product or service will help solve their problem.
Explain your offer and value clearly by visual emphasis. Use numbers, bullets, bolding, images, animations and video demos in the landing page.
Your form length should have that much offering that helps your visitors get value from it.
You should provide your users with great user experience as it can significantly boost your website's conversion rates. To do that you need to have an understanding of your user's goals, emotions, and motivations. You can use tools such as customer experience maps, user personas and purchase journeys to gain useful insights.
Let's take an example of e-commerce giant Amazon, how they have designed their product listing page that drives maximum positive user experience and ultimately the sales.
UX and UI Design Of Amazon's Product Category Page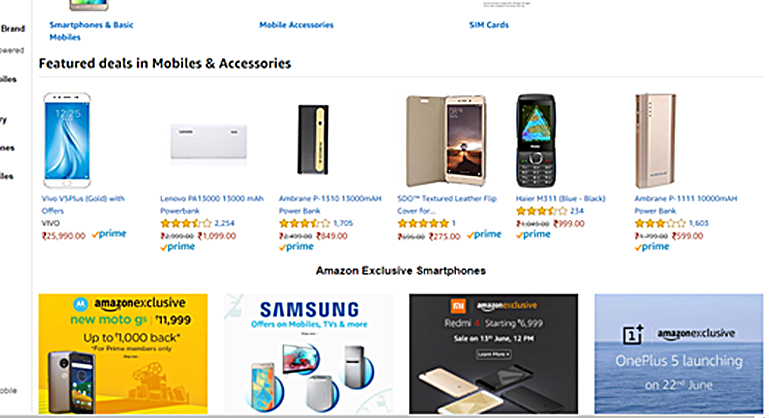 Shows rating given to each phone to entice you to buy.
The product listing page also shows the number of reviews. Online reviews are extremely important in your marketing campaign. 
Shows in the left menu bar the smartphone brands only available on Amazon and also some new smartphone brands.
Shows Amazon prime deals for mobiles and accessories.
UX and UI Design Of Amazon's Product Page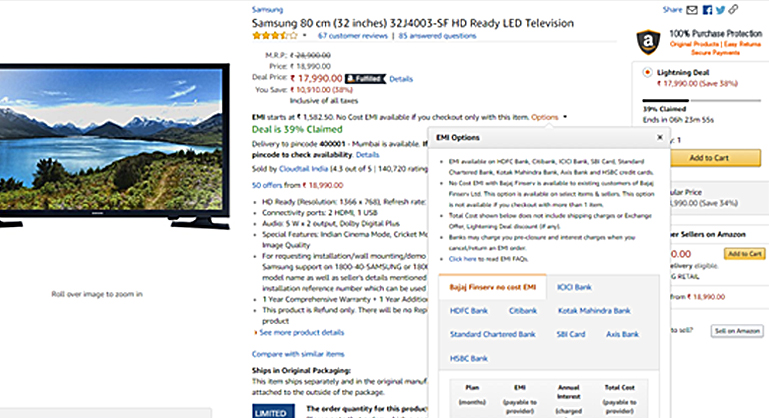 Shows product views from different angles.
Options in the right corner like email, Facebook, Twitter and Copy link to share the product.
There are an EMI option details so that people can make the payment in installments.
Purchase protection stamps that convince the online buyer to purchase products with trust.
Shows other items bought by other customers.
These are the features Amazon has included in their user interface design, or interaction design process that ease the job of a marketer.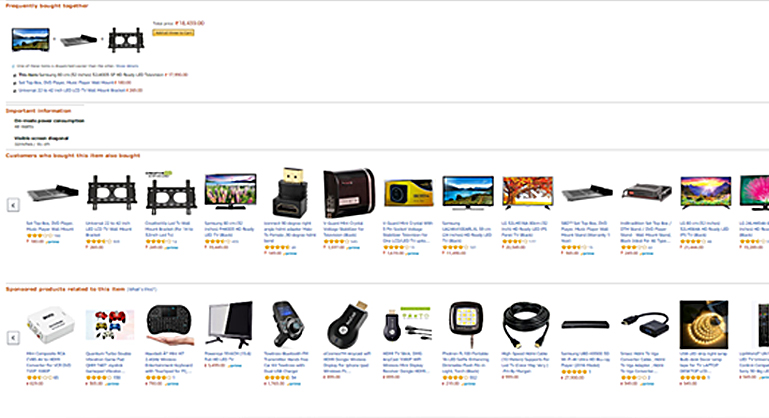 In their product pages, we also see how Amazon has strategically placed in below the fold of their web page the reviews and FAQs that comes to a purchaser mind before buying.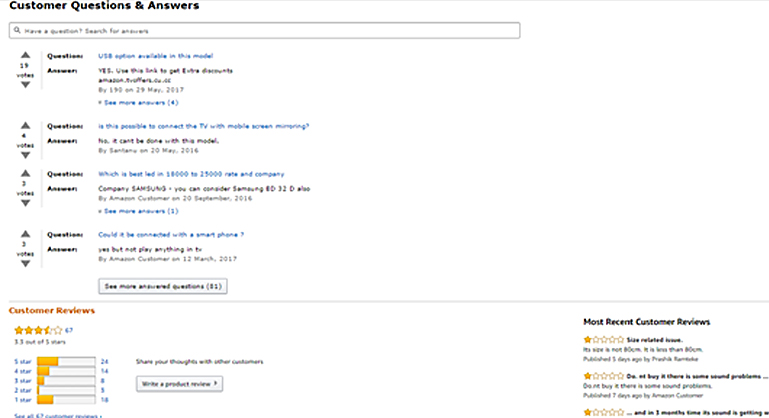 UI and UX Design Example Of Zomato's Home Page
If we take a look at Zomato's home page then we will find how their UX and UI design practices are driving conversion.
At the center of the page, you can select your city from the dropdown. There is also a search bar to search for restaurants or cuisines.
On the top right corner, there are two options: Order Food and Book a Table. At the top left corner, there is Get the App option 
There is an option for ordering food online. You can type your delivery location in the search box or click Detect to allow Zomato to know your location. After your delivery location is submitted, you need to click on Order Food Online!
There is a Quick Searches option, which allows you to choose restaurants by the type of meal you want to have.
There is a listing of popular localities in your city; this option allows you to see restaurants, bars, and cafes by locality. 
Now with all these UI and UX design techniques, Zomato can turn their online visitors into customers easily.
Now that you know of some UI and UX design tips and start applying them to get a great user experience (UX), leads to conversions.