Are you looking for fresh ideas to market your salon?
With the increasing use of social media, it has become all the more important that businesses know how to attract customers, engage with existing clients and use platforms like Facebook, Twitter, and Instagram to market their services effectively.
1. Beauty Salon Marketing on Facebook
Facebook is the perfect medium to communicate with customers. First and foremost, get yourself a business account. It helps to gain more exposure for your business as everyone is on Facebook nowadays.
You should write relevant posts that customers will want to respond to and give their opinion on. Include useful beauty tips and tricks.
Ensure that every post on your beauty salon's Facebook page is related to your brand and business:
Tell stories. Consumers are more likely to engage with your business if your stories connect with them. Here are some ideas from experts on how to engage fans on facebook page
Post loads of high-quality photos. You can showcase your salon's best work through the images.
You can run Facebook adverts to get followers who like lifestyle, beauty, and happiness.
2. Twitter Tips To Promote Beauty Salons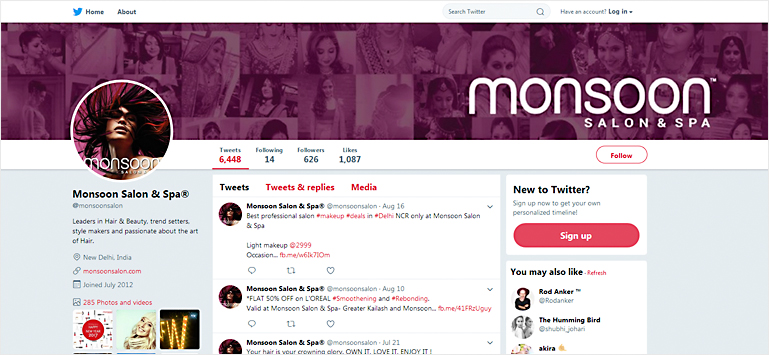 Twitter is an important platform for marketing your beauty salon. A hashtag can link all Twitter users who are talking about the same topic. When you put your hashtag into the Twitter search box and you will be able to see a list of all the tweets that have your hashtag in them.
You can insert hashtags at the end of updates, as a way to make contest posts unique.
Some of the popular hashtags that you can use are: #beautysalon, #elegant look, #elegantlook, #beautycare, #makeup
You can adjust your Twitter settings such that you receive an email when someone sends you a direct message (DM). DMs let your contacts send private notes through Twitter.
Provided below are some ways you can use Twitter to market your salon:
Post real-time updates about your business, offers, opening times, schedule load and more.
Give exclusive offers through your Twitter account for your followers.
You can organize a live Twitter chat for a style demo and allow users to ask questions.
Use Twitter to handle appointment updates, complaints and more.
Follow style, fashion, beauty and cosmetic trends and retweet good content.
You should post content with your brand hashtag.
You can post beauty tips with photos.
You can include seasonal hair and beauty care tips or hair styling ideas.
3. Marketing Tips on Instagram for Beauty Salons
Instagram's visual nature and its potential to reach so many customers is a perfect fit for your beauty salon. To market your beauty salon, you can use photos to tell stories about your brand as well as that of your customers.
Given below are some of the activities you can do Instagram:
You can post 'before' and 'after' photos of transformations of your customers. When a customer of yours is going for a new color or a transformational cut, it's an excellent opportunity to snap photos and show it to your social audience.
You can use trending hashtags to let users find your salon.
Use excellent images that are relevant to the hair & beauty services you provide.
Post about new products that you are using and give recommendations if you are having any.
Post contests where your followers and customers can participate to get exclusive deals or coupons.
Post about upcoming events in your salon.
These social media marketing tips will help you to interact with your followers with the hair & beauty services you provide and get social success.