Alisha uploaded her Christmas party attire on Facebook. She got 1k like and 800 comments.
You uploaded your product sale ad with gorgeous graphics. Oops! No notice. Facebook marketing business is not that plain sailing.
Recent industry updates suggest that whether through video or through graphics promoting a brand should be really specific.
Now with Facebook promotion services, one should never deviate from two core objectives.
To help buyers find out what they want to purchase.
Where they can purchase the exact product from.
Since the holiday season is just around the corner, Facebook will be all decked-up with creative promotion games of brands.
Prepare your holiday ad strategy right now. (Cause it's already too late!)
Facebook helps a marketer with the best possible ways to make their product promotion visually stunning.
Seasonal promotional strategies are certainly different from the tangible ones.
Your competitors have started it in full swing. They want more sales.
Are you satisfied with the "not yet" zone?
These are some important "creative enchantments" which will help marketers merchandise their products visually.
What are the Facebook tools to use to make ads look 2X more appealing?
Overlay to elevate the product ads.
Facebook has the feature "overlays for dynamic ads". It allows the marketers to add price and discount tags on their creatives.
Facebook has expanded their overlays so that marketers can build their own customized templates.
It's easy to create own overlay template and add it to the product catalogue.
When holiday templates join the video creation kit
Facebook lately has launched the video creation kit. Using this tool advertisers can easily create mobile-first video ads.
Guess what! You need not hire professionals or use any paid software/hardware for the same.
Soon, there will be holiday-specific templates and stickers in the kit. These will further enhance the product visually.
Ads will look more gripping and relevant
Facebook launched "Collection ads" in the previous year. Advertisers can pair up the products from their catalogue. This one feature makes mobile shoppers click on the 'buy' button much faster.
Sometimes you invest a lot of money after Facebook promotion services. It barely return any ROI.
Ever wondered why this is happening while others are earning maximum lead from holiday product promotion on Facebook?
We would recommend to fix your strategy in the first place.
Here are 10 tips you need to implement optimize your Facebook product ads for this Holiday season:
1. Understand the theme first: Festive is the only season where big brands spend a huge amount of money for Facebook brand promotion.
"Plan ahead!"
-Maddy Osman, SEO Content Strategist, The Blogsmith
The aforesaid data reveals that every penny counts when you choose Facebook for their brand/product promotion. Thus, every single strategy matters.
All you want to do is to ramp up your sales. Here are the focal areas where you need to concentrate right now:
Choose exclusive offers that you want to highlight.
Sell your brand, not your product.
Have a close track what your competitors are doing.
Focus on the tested methods that click.
The central focal point would be customer loyalty, make it the central KPI.
Target the right customer with e-mail marketing strategy.
Plan your promotion so that customers will remember your brand.
For example, Christmas is just at the next door. Definitely Bakery businesses in Kolkata have started their promotional game well ahead.
And, they will chiefly focusing on this festive promotion and related offers till the year end.
2. Work on your ad placement: Have you ever seen an auction house? Facebook Ads work in the same method.
Facebook will push those ads up to the right target audience which are well placed.
Change your ad placement. Facebook offers 14 different placements for your ad. This means you have a lot of opportunity to showcase your brand in the right way.
Continue experimenting to achieve the best look.
Here we can draw the best example of online clothing clothing e-commerce Facebook page promotions. Have a look at the placements of their ads.
These sites never fail to showcase their seasonal offers even on their Facebook banner page.

Check out the placements of the ad. People will have no confusion regarding what they should do after seeing the ad.
3. Testing accumulates the best result: If you are promoting your ads for the first time on this holiday season, we would suggest you to create a test campaign before a week when your ads start running.
Not necessarily you have to publish it. It's for checking out the flow. Make sure your page, ad account, payment process all an in sync.
Check these following items:
Payment method is up-to-date.
You have accepted all the terms of services.
All the members have required access.
You are all set now. Start creating your real campaign.
4. Create custom audience : Choose the audience very carefully for the best outcome.
We suggest using Custom Audiences to accrue more warm buyers. Don't go with the broad audience and waste your precious ad spends.
Chalk out the custom audience list first.
How to create custom audience on Facebook?
To create your custom audience base you need to follow these small steps:
Existing customer details you can import from the email records.
Target those people who have visited your website.
Use custom audience from your Facebook page interaction such as likes, comments, video share.
Mobile apps can also provide you the list of targeted audience.
Make sure your custom audience list is apt and up-to-the-minute with the latest customer information.
Let's have a look at this campaign of Cafe Coffee Day-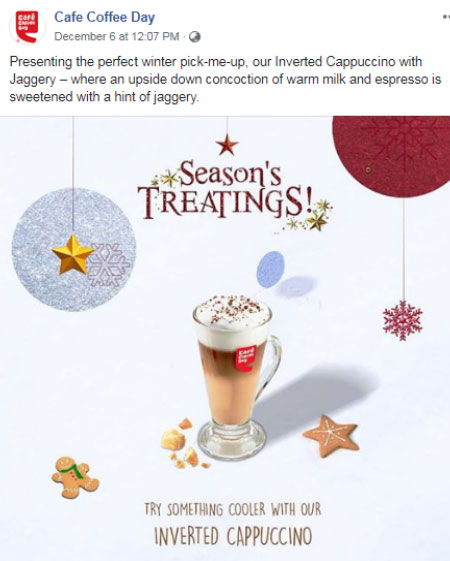 For this ad the target audience should ideally be the millennials. Because, Cappuccino is widely popular beverage among the tinsel town. Besides, the ad is also carrying a festive season tone.
5. Hold the main focus on compelling offers: Make your offer simple and clear.
Get it very clear with below 20% offer won't turn the ahead. This is the minimum rebate rate for effective online ads.
Freebies and add-ons will also work.
Pro tip: If you find an item you can buy in bulk at a reasonably lower price, give it for free.
Free items attract more audience than offers and rebates.
For example, if you are selling beauty products you can simply give away one lipstick free with the purchase of a beauty foundation.
Here we specifically mention 'shipping and the return policy'. Alongside the offers and the purchase, make sure you are just apt with your shipping and the return policies.
Customers always prefer to shop from those sites which are particular about on-time delivery and have flexible return policies.
A few days back Amazon India hosted a sale on some unique products manufactured by small business owners. Take a look at the ad content: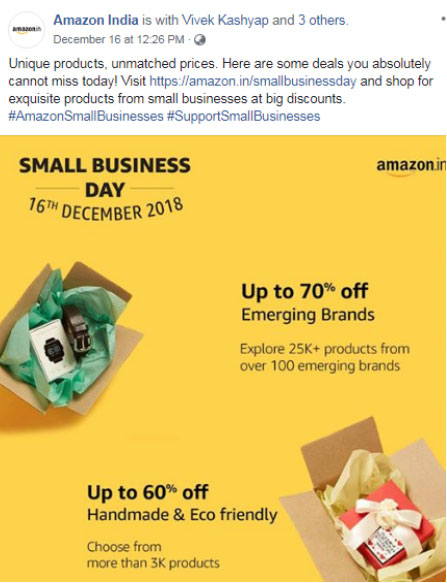 Now people would definitely jump on these offers as these products are attached with Amazon's assurance policies.
6. Check your spending cap: The saying goes like "Cut the cloth according to the coat."
A continuous check on your Facebook Ad account is really really important.
If your offers run well, chances are there it will surpass the normal budget. It indicates that you would reach your upper cap sooner than think.
Most of the advertisers overlook this fact, as they receive printed invoice before the limit gets choked.
To avoid this error, use the Facebook Ads Budget Calculator. It will help you decide and act on your budget fast and smooth.
Type in your metrics and it will automatically show you the fittest budget for your goals.
The fun part is you can change, re-edit, remove your spending limit just with a few clicks.
7. Schedule campaigns in advance: Facebook marketers mostly skip the sweet time when a maximum number of people visit their page.
"Start promoting now!"- Suzanne Moore
Avoid last minute promotional campaign. Ad manager also takes a few hours to review your campaign.
Unless Facebook scrutinizes your ad manually and gives a thumbs up the amount won't get deducted.
Usually, Facebook takes 24 hrs to approve your ad. But in the peak season (holiday) it might take 48 hrs and sometimes a little longer than this.
So, plan your post at least before a couple of days. You can have a good amount of time before the approval.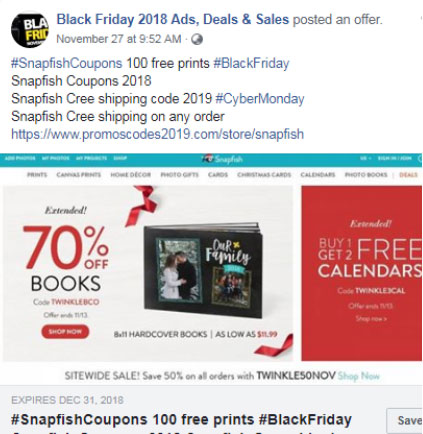 If you notice the date of publishing this ad here. We have no idea how much conversion took place with this particular ad.
Blackfriday this year was on November 23. This particular ad published a littler later than expected. But it will last till Dec. 31 which means within this one month there's a scope for a giant conversion.
8. Make sure there's 20% of the text on your graphics: The graphics you put on, make sure it has at least 20% text on it. This indication is also applicable for thumbnail images for videos.
If you overdo the limit it's no big deal. But, for the festive time, Facebook talks only business. It requires you strictly maintain this measure and metrics.
When the ad capacity is on the lower cascade, Facebook tends to penalize
Let's tell you how to quickly dissolve this issue.
Simply remove unnecessary texts from your graphics and video thumbnails.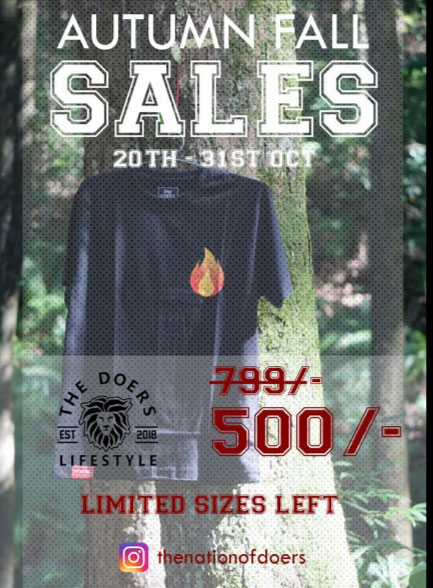 Now what is wrong with this campaign of autumn fall sale?
This ad contains plenty of texts on the image which certainly makes the image a bit clumsy. There was no need for those dots on the image also.
Make the campaign clear and distinct so that the message comes out really clear.
Spoiler alert!!
There are exceptions to this 20% rule in case of some product graphics, book covers, and even banners.
Facebook mentions that graphs, charts, movie, book or magazine covers, TV show posters, and legal texts don't fall under this 20% text rule.
Use Facebook overlay tool to check the compatibility level. If Facebook finds it 'OK', it will give you a green tick.
9. Give a fresh look at your reports on a regular basis: Once you publish your ad, check how your ad is performing regularly.
This is how you can find the best time to pause ads or adsets if any campaign is underperforming.
Agencies holding a maximum number of clients find it difficult to monitor the report on a daily basis.
To get reports in your mailbox regularly advertisers should automate reporting to get in their inbox every day with the well-performing KPIs.
Use tools like
Refuel4
Reveal Bot
Reportgarden
Zoho
AI Target etc.
10. Read on what Facebook has to say: If you still think posting holiday ads is a little dizzy subject to understand, study Facebook's Official Holiday Guide-
https://www.facebook.com/business/news/new-ways-to-showcase-your-products-this-holiday-season
Here you will get every nitty gritty about holiday campaign promotion on Facebook.
It contains a whole lot of insights, prime time info about four phases of holiday seasons.
Get the best knowledge do's and don'ts about Facebook marketing on holiday season.
Starting from the planning to optimizing your sales through holiday ads this guidebook can only cater to the best ever knowledge on holiday promotions.
Want your holiday ads to perform well on Facebook?
Time to speak to the experts.